So Nathan and I decided to head out of the Lighthouse ramp and beat the storms around 11 am on Sunday. The weather was great but knew we may be run out at any time with storms brewing on the horizon. Headed out to the east of the lighthouse and decided to stay close as the Yamaha was still giving full throttle issues of not keeping full throttle as we headed out. We fished on the flats by the lighthouse and had a small sea turtle visit one of our baits and he was released back to swim away. cool for my boy to see a small one up close. we caught several small trout and Daddy got one 16.5 inch in the boat for dinner. as we moved a couple of times the shorts were hitting, large pinfish which we put on the big rods out for bait and several catfish my boy got his shark of the day. this one not as big but he loves catching them and netting them only to release them back. the water was tea stained and all hit in about 4-5 foot of water, and even the water being stained you could still make out the grassy bottom. weather started building up around about 3 to a point we decided to head back in to avoid it and on the last cast of a shrimp under a popping cork my boy says "Dad, Fish On"
as he likes Jeremy Wade on Rivermonsters.
Me thinking it was only another catfish hearing "Get the Net" from my boy. which Dad is good at netting by the way. I net the fish to have my boy get his first Spanish. and then knowing this was a good one he had to measure and sure enough again it was 17 inches to beat Dad for big fish of the day.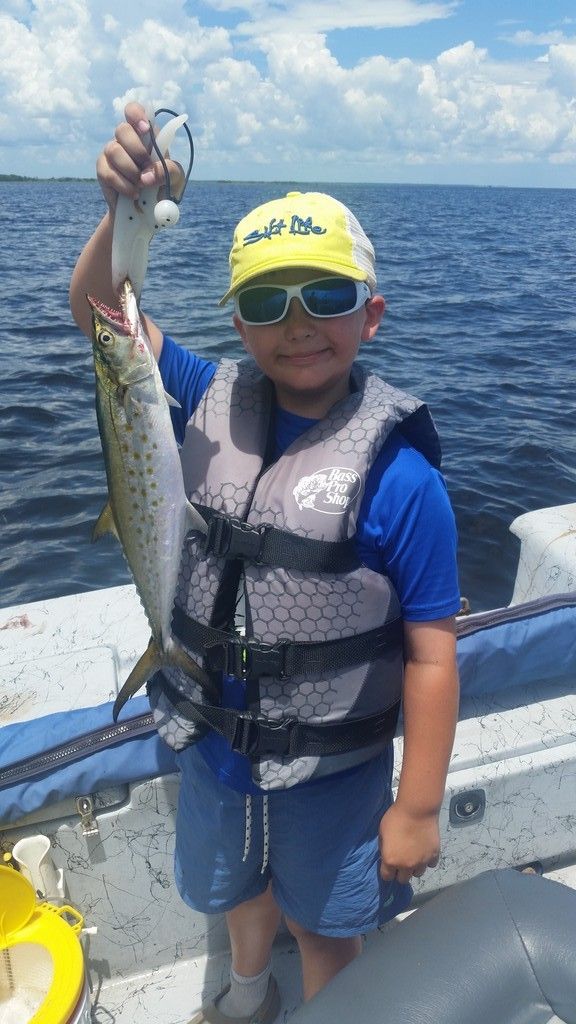 I will never get old knowing I am being out fished by this little guy and growing up with him as my fishing buddy.
this has got to be the best thing any dad would or could ever want. Tight lines little buddy.