I went out to Piney-Z on 4/29. I got out there about 12:30ish pm and fished till about 1:30. I didn't want to lug my tackle box around the lake so I rigged up one weightless/weedless motor oil/red senko. I started on finger 3 where the boat launch is. After a few cast and not seeing any kind of structure for fish I headed down the trail. Stopped at finger 4 and had a look around, nothing really caught my eye. I kept walking and found what I was looking for. On the left side as your walking out the finger is some downed tree branches. After about 10 min of working the senko I caught this little guy, snapped a few pictures then back in the lake.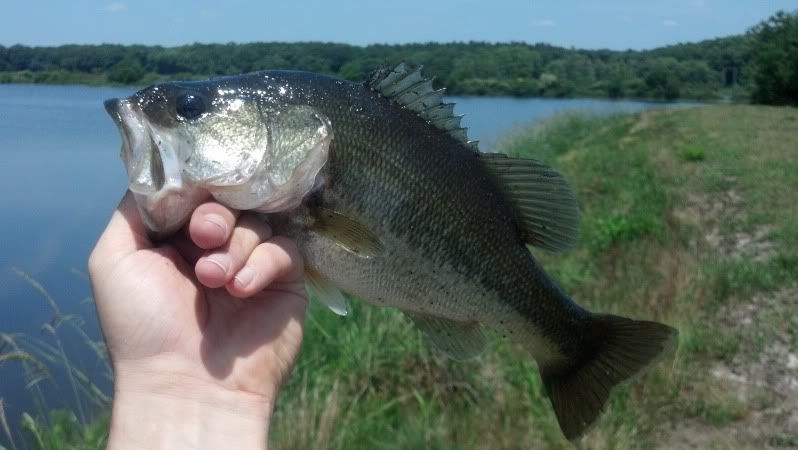 Kept fishing for a few more min. My weedless rigged senko ended up snagging one of the tree branches so I ended up snapping the line trying to get it back. I called it a day as I didn't feel like walking back to the truck and returning to the finger.
I went back out on 4/30. I got out there about 8:50 am. I went straight to the spot I fished the day before. The bass were hitting in the area. I rigged up with the same motor oil/red senko. There were a few gators off in the distance. The wind was calm and the air was cool. I fished the same downed trees and caught a bass resembling the one I caught the day before. Possibly even the same bass. He must be hungry. Got a few pictures then back to the water. Kept fishing the area as fish were still hitting all around. I hooked on to another bass and got him close to the bank before he shook the hook. Had to leave to go to a doctors appointment. I kept telling myself "okay, last cast then I have to go". After about 10 more of those cast I packed it up at 9:45 am.
Here is the fish for day 2: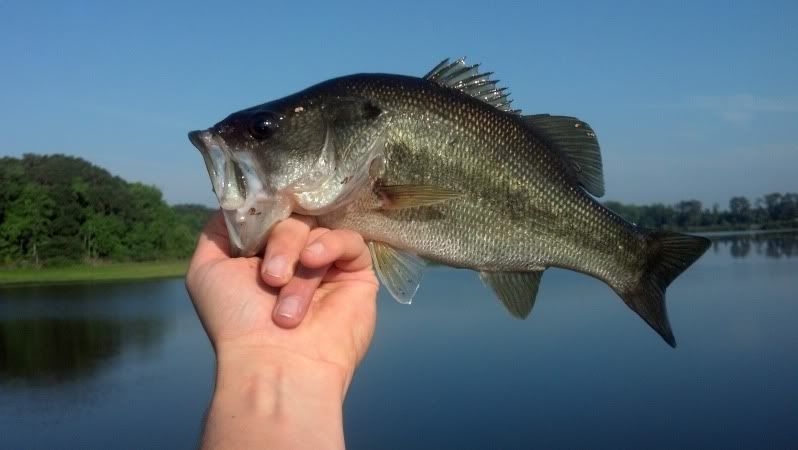 I need to get a kayak. There is a group of Cyprus trees out in the lake that I would love to get to and find out what kind of fish they are holding up. I plan on going back out there this morning. I will report back later on if I catch anything.