Moderators: bman, Chalk, Tom Keels
The lake is waaaay up after this rain and water is still flowing in.
Duck season rules




A reminder that you cannot run an internal combustion motor on the lake until February 1…
Barry Bevis, Realtor and Owner of BigBendFishing.net
I liked it so much, I bought the company

http://www.bevisrealty.com

TEAM "Duck Season!"
Is that the ramp at Bull Headley? Last time I was there you could walk on dry lake bed 50 yards past the dock.
Posts: 613
Joined: July 27th, 2006, 9:11 am
Location: Hey-vana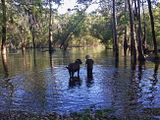 Great picture there.


Sent from my iPhone using Tapatalk